Tucson Attractions
Listed below is a map and some points of interest near Tucson, Arizona.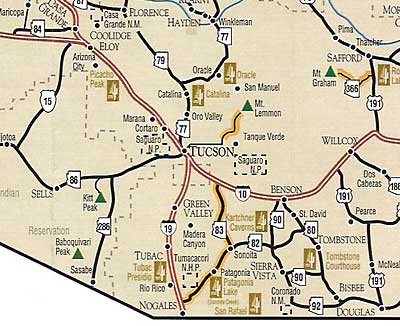 Welcome to Marana, the fastest growing town in Arizona. Marana is located in the historic Santa Cruz River Valley. Part of the Sonoran Desert, Marana is one of the few Arizona communities where the majestic Saguaro cactus flourishes.
Marana has much to offer the history enthusiast. Some of Pima County's richest archaeological finds are in this area. Old Pueblo Archaeology Center has a new facility that features various events throughout the year.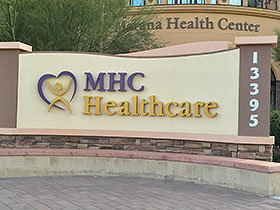 Recreational opportunities in the area are endless. With 320 days of sunshine annually, there is rarely a day when you can't get out and enjoy available activities, including hiking along the Santa Cruz, visiting the waterpark, discovering the view from a balloon or beneath a sky diving parachute.
Marana has three golf courses that will satisfy every style of play. Two are private, with limited public tee times, and one is public.
There are lots of attractions within a short drive. Cultural and historic sites, national and state parks, old copper mining towns, and birding and wildlife preserves. Some of the more popular attractions include the AZ Sonora Desert Museum, Saguaro National Park, Old Tucson, Pima Air & Space Museum, De Grazia Valley of the Sun Gallery, Desert Diamond Casino, Reid Park Zoo, Old Pueblo Archaeology Sites, San Xavier de Bac Mission, spring training for MLB teams in nearby cities, and the old Wild West town of Tombstone.
Marana Health Center
11981 W. Grier Rd
Marana, AZ 85653
(520)682-1091
Quarry Pines Golf Club
8480 N. Continental Links Dr
Tucson, AZ 85743
(520)744-7443
Marana Senior Center
13250 N. Adams Rd
Marana, AZ 85653
(520)382-3485
Tucson Premium Outlets
6401 Marana Center Blvd
Tucson, AZ 85742
(520)385-7726